Let's face the truth: the most stunning furniture doesn't just happen. It is carefully thought, designed and crafted.
And this is exactly the ethos behind Guerra Vanni and the way we work: to offer customers an exclusive level of customization with a personalized approach to creating or modifying furniture that will transform their interiors.
As it happens with everything else, there is always a precise inspiration behind what we do and the bespoke design and manufacturing process that goes in each and every piece.
Guerra Vanni's aesthetic is nobly influenced by the amazing country where we make by hand all our furniture, Italy, and the great cultural, artistic and artisanal tradition – in both classic and contemporary furniture – we inherited. We think of this aesthetic as sophistication: a beautiful and elegant furniture without necessarily being pretentious.
We like to reflect a genuine connection with our clients and lifestyle: the colors they love, the type of wood and the materials they prefer. It's only up to us to adapt their preferences perfectly to the style of the furniture we make.
All our products are made in Northern Italy, nearby the beautiful city of Verona. Here we design, craft, frame, decorate, finish all our pieces: this means that when customers ask for something bespoke, we are able to customize every single component of a piece of furniture or to creare a completely new one.
We are pleased to have our furniture featured in many beautiful homes around the world as well as having worked with a good number of leading international interior designers who have selected pieces from our collections and then have asked for customization for their own ccustomers and projects.
Recently we have worked on a custom version of the sideboard from our Clizia Collection for an international interior design studio.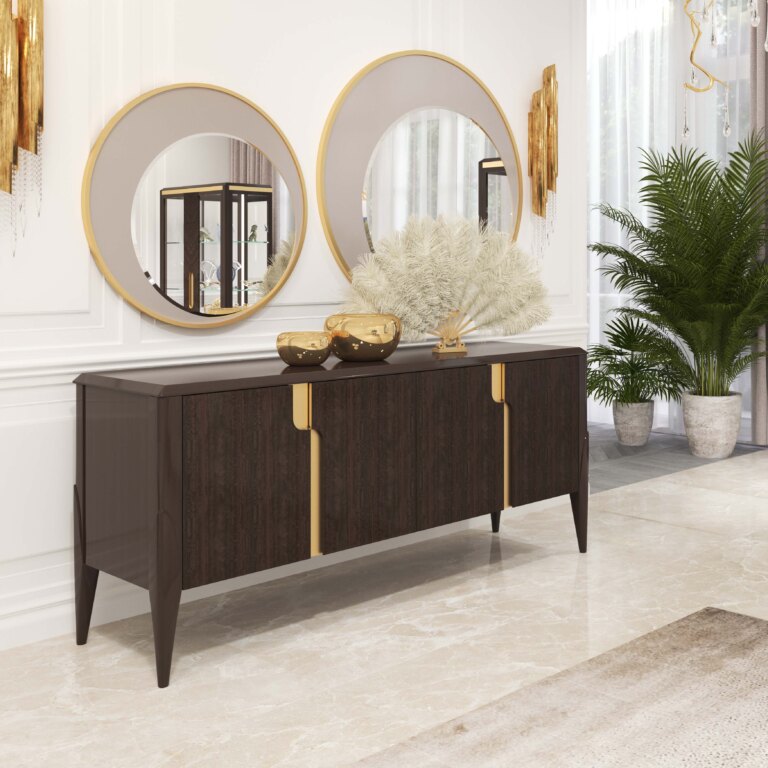 The sideboard was going to be placed as a unique piece within an already designed contemporary style interior, characterized by light shades and marble walls.
The size had to be 240 cm instead of the standard catalogue size of 200 cm.
The customer had a very specific taste as far as the countertop was concerned. He preferred marble in place of wood with a wavy texture recalling the waves at sea. Colors should have been soft, warm and sophisticated.
The marble slab thus provided us with a range of colour nuances that we had to respect.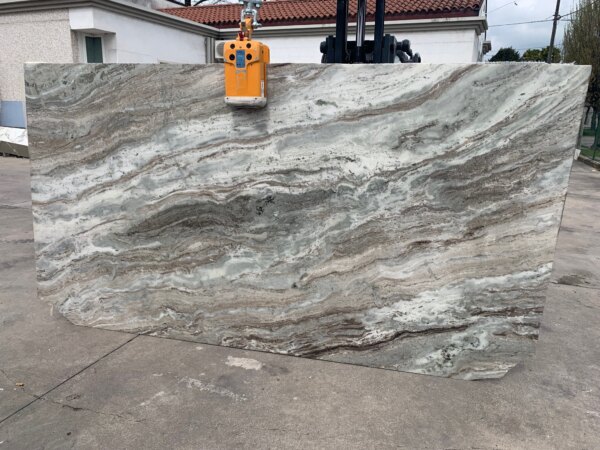 On the other hand, we should have gone along as well with the nuances of the essence of the natural eucalyptus wood used for the hinged doors.
Confronting with such two stylistic features of the whole piece of furniture, we opted for a laquered finish to enhace the body of the sideboard.
The handles next, made to measure in wood, were finished by hand in bright silver leaf so that they could reflect the overall hues of the piece.
The same silver leaf technique was then used to emphasize the particular design of the sideboard legs.
To customize the Clizia sideboard in a design concept in which the aesthetic needs had already been outlined by the pre-exiting interior, has been very challenging.
The result: an extremely contemporary piece of furniture that reflected the customer's style.
Almost any aspect of our products can be customized, whether it's the dimension, structure, comfort, type of wood, fabrics or a more detailed customization like a particular stitching style or the curvature of an armrest.
Our in-house team is able to prepare custom drawings and technical specifications that allow us both to intervene on existing collections and to create something new and unique.
And whether it's modifying something from our collections or creating something new, well, you must know that we are passionate about designing and manufacturing the best furniture, handmade in line with Italian standards and design expectations. Our furniture pieces are all handcrafted under the direction of our expert consultants and furniture makers, who have decades of experience. One thing is for sure: if something is wrong with a piece, that piece is not coming out of our factory and this gives designers the right confidence when specifying our products.
We want to share our ethos of Italian-made, customizable furniture with the industry professionals. But we would also love people to know the beauty in having a piece that was created specifically for their home.