HOME COUTURE: NEW WAYS TO COMMUNICATE
You never know how far a writer's hand can go, and that is what happened to us as well.
Among the myriad channels we chose the one to make our own newspaper, a newspaper in the style of Guerra Vanni. A medium that proved to be a challenge, passed with flying colors. With the advent of our brand new contemporary Iconic collection, we wanted to find an alternative but impactful way to introduce it to you.
Knowing…but not as you are used to, in a totally new and out-of-the-box way. This is how Home couture was born. It starts with the desire to tell us and make ourselves known to make people understand what is behind a Guerra Vanni piece of furniture: there are people, experience, passion, smiles, a lot of work and attention to detail…we tell about how we have changed over time but above all what is the secret that has allowed us to grow to this day, starting back in 1963.
Home couture is the result of researching the latest trends in design but also in fashion; after all, you know, fashion has always influenced design…and design has always been influenced by fashion. With this in mind, the idea is to tell and retell ourselves in a whole new key, where we advise you on how to furnish, not only following the latest trends but proposing the best of Made in Italy that only hands of expert craftsmen of Guerra Vanni can give you. Our magazine lends itself to focused yet light reading, where the proposal for a living room is accompanied by an extract on trendy colors, materials and fabrics or even a moodboard that can be customized and made as unique as a tailored suit made just for you.
All of this is blended with light and curious articles to topics other than the world of furniture but with a well-thought-out and well-researched thread. Here comes the idea of making you better acquainted with our world-famous and world-loved peninsula. In each issue you will find insights into Italian and iconic locations to visit, some well-known, some less so. Let's discover together the most hidden corners that make our nation unique in the world.
Just a little preview, in the first magazine we will tell you about… Vulcano to which we have dedicated our line of coffee tables with warm tones and minimal design that you can find in the new Iconic collection.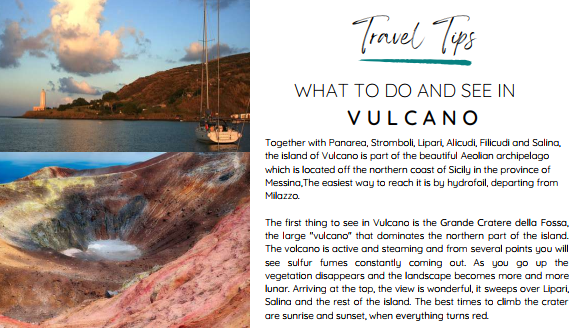 What about fashion? Of course, it cannot be missed. With Iconic, in addition to this reminder of Italy, with its lands and seas, there is also a tribute to the real icons of haute couture who have made Italian fashion and Made in Italy famous all over the world. Thus was born the inspiration for the new Gianni, Donatella and Allegra models ..our way of honoring the Versace family and not only.
Refined fabrics and materials, fine woods and finishes that are elegant but certainly stand out, nothing is left to chance.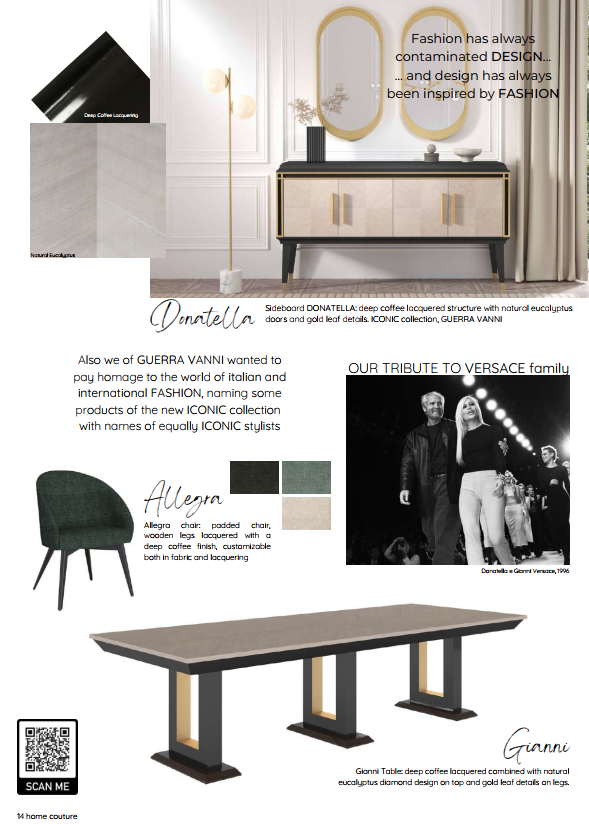 All this mix then translates into what we make: fashion inspires us in our choice of models to make while our experience turns it into concrete projects. With this premise, we want to make you part of our boast: custom designs; That's right, not only do we manufacture our products but over the years we have also specialized in being able to find the best solution that can materialize, for example: a sideboard with a marble top rather than a wooden top, or a vetrine with a wallpapered back. In short, endless implementation possibilities shaped to your needs. In our first magazine, for example, we tell you about the making of the elliptical table that furnishes the Libyan Government Meeting Room.
And to conclude ? A journey into the world of custom , our world .
We tell you how a totally customized Guerra Vanni project is born , followed step by step by us and our special staff .
What to say , you just have to read it and be sure to let us know if you liked it!
Click on the magazine below to request your copy.