How to furnish a dining room in a modern style? What elements can not be missing? What colors are most suitable? Let's find out in this article!
The dining room is the place where you gather, where you sit quietly and spend pleasant time with family and friends. Therefore, it is a room where you share pleasant moments and that is why it must be beautiful but also cozy, cheerful, comfortable, convenient and functional. If you want to furnish a dining room in a modern style, you will have to pay special attention not only to the choice of furniture but also to their placement, colors and accessories. Everything will have to be in harmony, especially if it is located in an open space, adjacent to the kitchen or living room.
Colors and materials in a modern dining room
As always when furnishing a room, even before choosing the furniture and its location, you have to decide what the colors and materials will be. The beauty of the modern style is that you can range in an infinite variety of finishes and shades. For example, wood, which is often considered a material suitable for classic furniture, can be mixed with glass and marble to achieve an elegant and minimalist effect.
As for colors, starting from a neutral base preferably light (white, grey or beige are all suitable solutions for a modern dining room) you can add touches of color such as light blue, green, orange or yellow. For example, using colored velvet chairs, decorative mirrors, lamps and pictures on the walls are fine ways to liven up the room.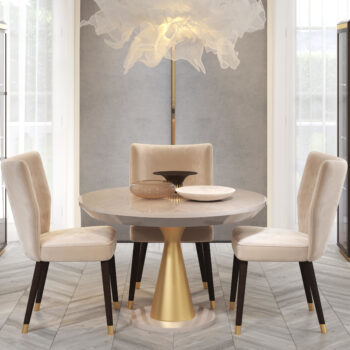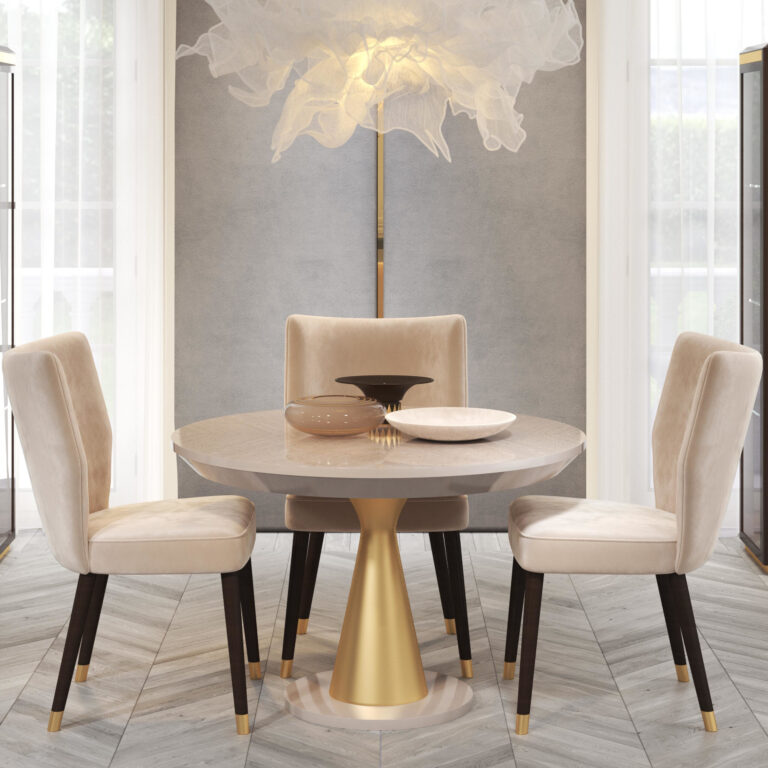 How to choose the furniture
The furniture in a dining room are essentially the table, the chairs and a sideboard where to store objects, dishes and glasses.
The table in a modern dining room can be of any material and shape: glass is very elegant but delicate so choose it only if you are able to take care of it; marble is impressive, refined and timeless; wood is easy to maintain, solid and sophisticated. As for the shape, it essentially depends on the size of the room: choose it round, oval or rectangular, with the possibility to extend it if you often have guests at home. Often modern design tables have articulated and original pedestals, to make them become the protagonists of the room.
As for the chairs, you can choose a complete set or opt for a solution that has been trendy in recent years: combining chairs of different styles and colors is a touch of class that we see more and more often in modern dining rooms. The effect will be lively and particular.
Finally, the sideboard is a fundamental element in the modern dining room. It is not only used to have everything you need at hand while you eat, but can become an integral part of the decor. Obviously, it must be correctly matched to the table, both in style, material and size: a reasonable proportion between the two pieces of furniture is essential. Not to mention that the sideboard is an excellent support surface for designer decorations and knick-knacks.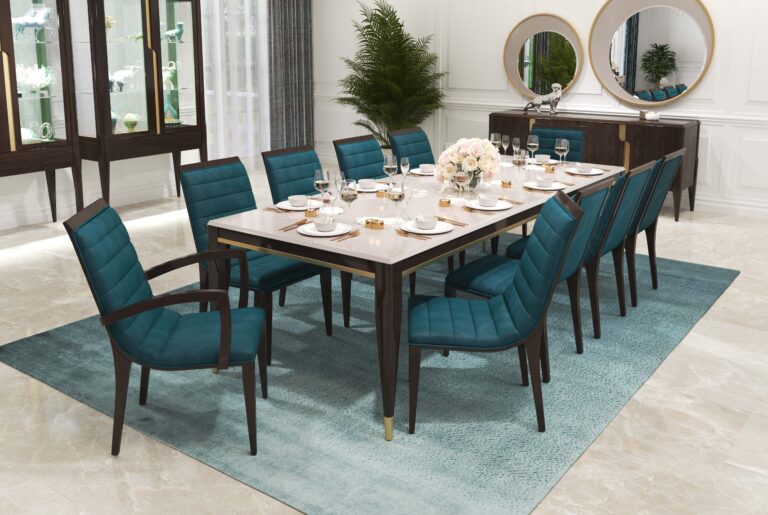 The Clizia Collection for your modern dining room
In our new Clizia collection you will find everything you need to furnish a modern dining room with high quality furniture, handmade in Italy by choosing only fine materials, which last a long time. We have placed side by side furniture with simple lines and objects of true design, characterized by original shapes and precious materials: in this way you can choose the perfect furniture for your home. Tables of all sizes, oval, round or rectangular, light or more massive style sideboards, chairs of all colors and shapes.
Find out our Clizia Collection here!