The dining room is a meeting place that immediately recalls family evenings and lunches with friends; it is a room for conviviality and sharing, where you can spend a few hours in relax and serenity. 
It is important to furnish this room with extreme care to create the familiar and cosy atmosphere that this place reminds. It does not matter if you prefer a classic or a modern style, with a few small touches the dining room will be comfortable and elegant. Of course, the furniture plays a fundamental role in the furnishing of this room: if the accessories chosen are not made of good quality and manufacture, all other measures will be fruitless. Here are all our tips for creating an elegant dining room.
Classic and elegant dining room
Elegance, luxury and value: classic furniture perfectly embodies all these values, enhancing and enriching any room. It is a timeless style made up of sinuous lines, important furniture, and many accessories.
When starting the furnishing of a classic and elegant dining room it is certainly important to choose the right table: it must be large and spacious to comfortably welcome guests and have the necessary space to place all the dishes; an excellent solution, which also allows you to optimise the space, is the choice of special extending tables. To recreate that warm and familiar atmosphere typical of grandma's house, we recommend the use of vintage-style furniture in solid wood, choosing between shades of walnut, acacia or wenge.
Equally important are the chairs, which needs be in harmony with the table. Baroque-style cushions should not be missing, not only to make seating more comfortable, but also to warm up the atmosphere. The colour choice should be based on the shade of wood chosen, but can range from red, blue, grey or green.
Small pieces of furniture will help to embellish your dining room. All you have to do is choose the objects that best represent you and that are able to transmit a feeling of warmth and well-being, enriching the environment.
In our Classic collection, you will find all the furniture you need to give your classic dining room the value it deserves.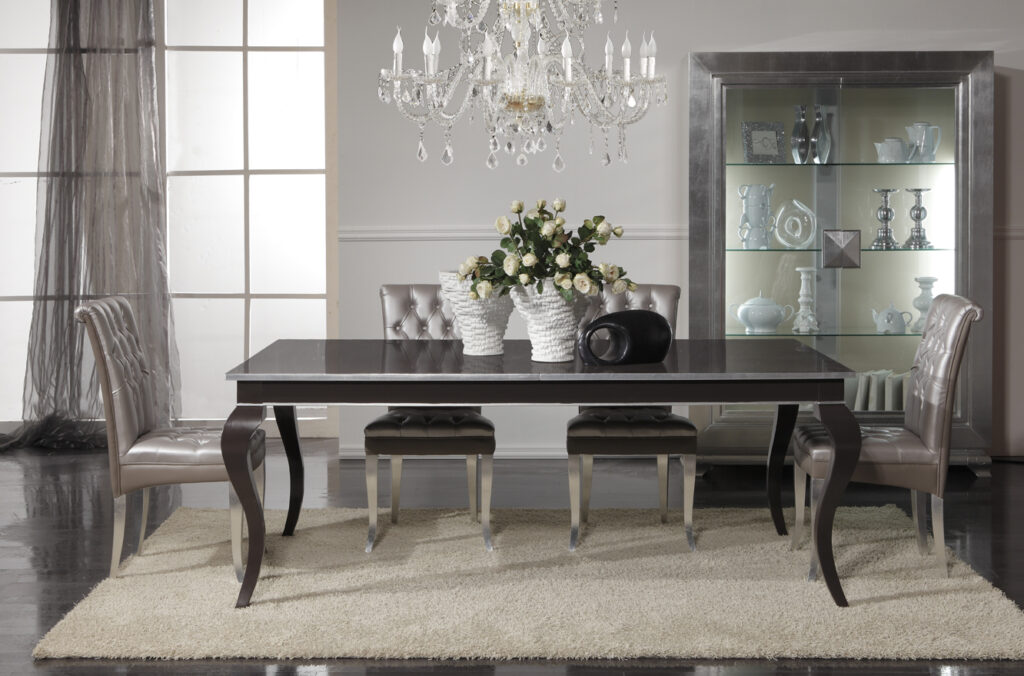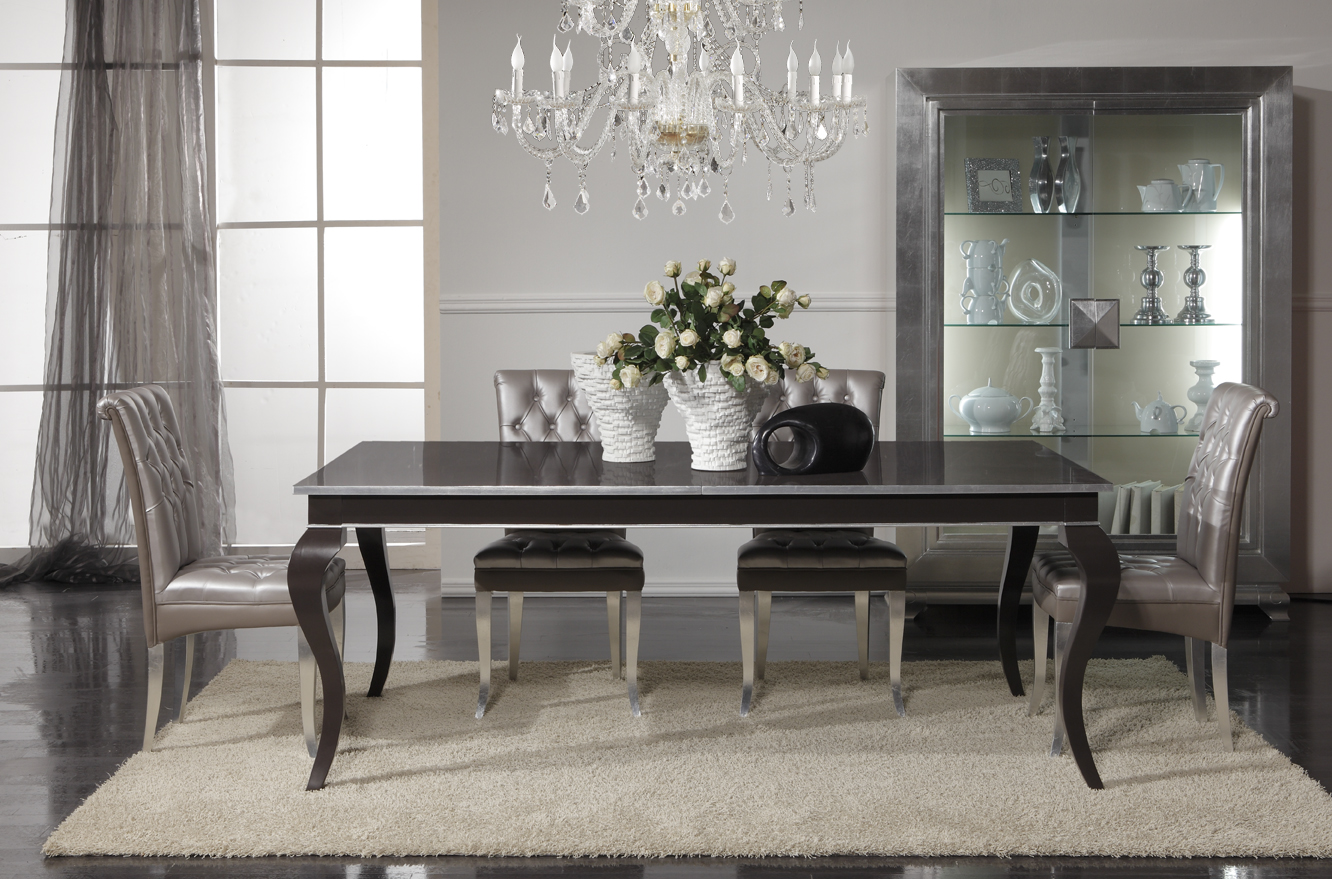 Modern and elegant dining room
Even in a modern elegant dining room, the table is the star of the room. It is essential to choose a table large enough to comfortably accommodate all the guests; however, the taste in furniture is very different. The frill of the classic line gives way to geometric and simple shapes, which allow you to play with the colours to produce beautiful chiaroscuro effects. White and its shades are some of the most popular colours in modern spaces and, as you can imagine, they also conquer the dining area with their fresh and lively essence.
In a modern, elegant dining room, you could add not only furniture to provide a place to put dishes and drinks that would otherwise clutter the table, but also pouffes and armchairs where you can relax and enjoy a glass of fine wine between courses.
Our Contemporary Oscar line is perfect for making your dining room look elegant and essential.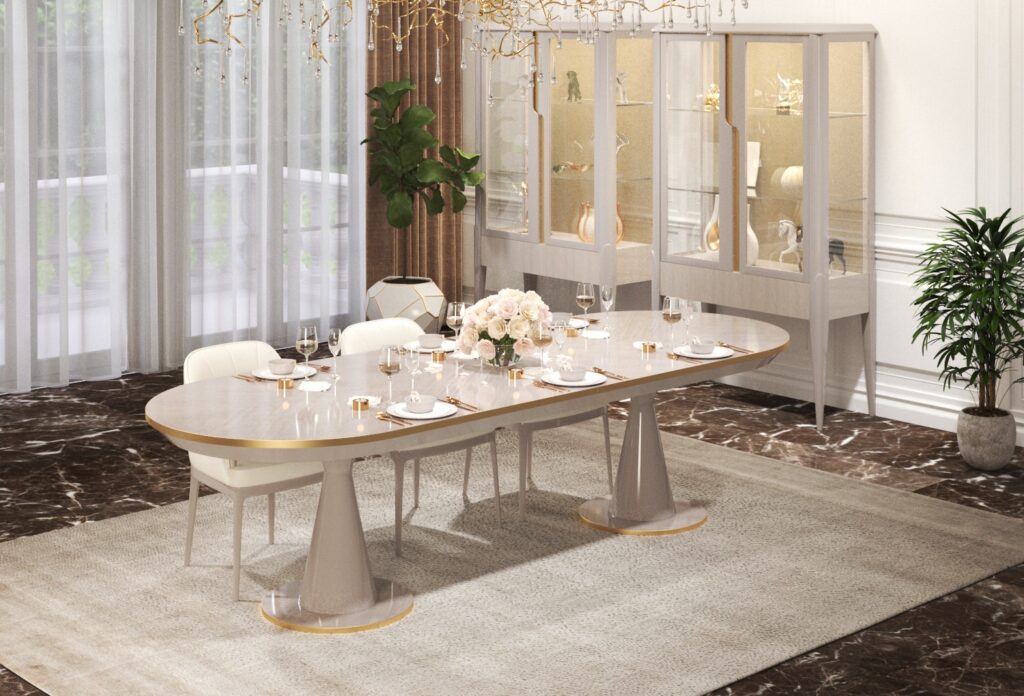 Small touches to create the perfect atmosphere.
It is a fact that furniture is the most important element in a room, but there are other details that need to be considered to achieve the perfect atmosphere in your dining room. The right lighting is necessary: add style to the room by using designer chandeliers and floor lamps; choose lights that can be dimmed to suit the atmosphere you want to create; and make sure there is as much natural light as possible.
The choice of wall colour is also important. A room with beautiful furniture but surrounded by bare white walls does not look appealing: choosing the right wall colours will affect the whole character of the room. Obviously, in a classic dining room you will opt for warmer colours; conversely, in a modern dining room you will opt for neutral tones or colours who belong to the beige palette.
Finally, it is a good idea to include additional furnishing elements within the framework to give that much sought-after sense of familiarity: photos on the walls with more or less elaborate frames, sofas to be comfortable during an aperitif, or a classic stone or marble fireplace.
These are just some of the tips for furnishing your dining room in the best way possible. Regardless of which style you choose, our interior designers are at your disposal to advise you and help you realise the dining room of your dreams. Do not hesitate to contact us.