An elegant bedroom immediately conveys a sense of coziness and sophistication. Here are all our tips on how to furnish and decorate an elegant bedroom.
Having an elegant bedroom immediately gives a feeling of warmth and sophistication that conquers and makes the room much more welcoming. It doesn't matter if you prefer a classic or modern style, you can bring elegance to any room by adopting small measures and inserting details that can make your room look more luxurious. Obviously, even the furniture you choose must be elegant and of high quality, otherwise even the most elegant accessory will be useless! Here are all our tips for furnishing your bedroom in an elegant and sophisticated way.
Modern elegant bedroom
In an elegant modern style bedroom, the most important thing to choose is definitely the double bed. It must have clean, sharp lines, extremely simple, no frills. However, you can play with the headboard, choosing a decorative and important one, which stands out: padded and quilted headboards in particular are very elegant.
Equally important are the bedside tables, which must be in harmony with the bed but also have their own personality. The choice must fall on bedside tables that are certainly beautiful but also meet the needs of those who live in the bedroom: there are models with drawers, to store small items without clutter, but also with wheels or suspended, to give an airy and light sense to the entire room.
In our Contemporary Classic collection, you'll find all the furniture you need to give your modern bedroom the elegance it deserves.
Discover the collection here!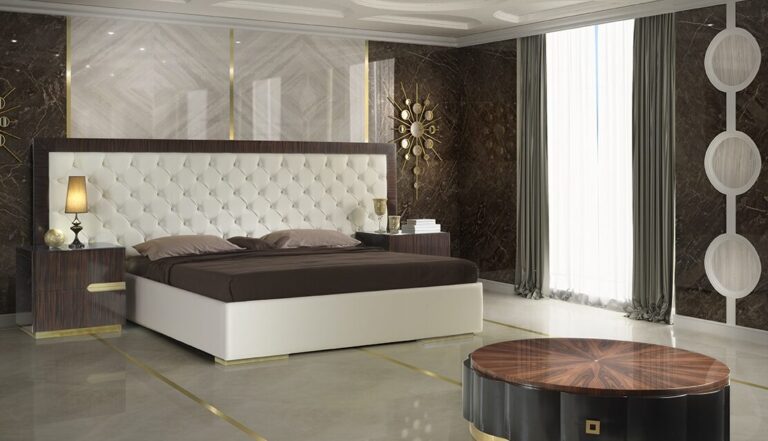 Classic elegant bedroom
A bedroom furnished in a classic style, is in itself elegant. It is wrong to associate the classic style with old and outdated furniture. The traditional style in fact allows you to create a cozy and comfortable environment: the shapes are sinuous, rich and opulent, the materials are fine and solid, well structured and majestic.
The classic bed is made of solid wood, with a solid and durable structure, massive, but with rounded shapes. The headboard can be made of quilted fabric or even wood, decorated with precious details and elaborate finishes. Often we find golden details that embellish the bed and make it even more elegant. At the foot of the bed, in a classic room you can insert a bench where you can sit or put your clothes before going to sleep: it will be a touch of class that will make the room not only elegant, but even royal!
Finally, if you have enough space you could also add to the furniture a vanity unit with a mirror. This is an object that we find in the aristocratic rooms of the past, which goes very well with wooden furniture and precious finishes, but it is also very useful to contain small items, cosmetics and brushes and have everything at hand.
Our classic furniture collection contains beds, nightstands, chaise lounges, benches and ottomans to furnish a bedroom that is elegant in every detail.
Discover our collection here!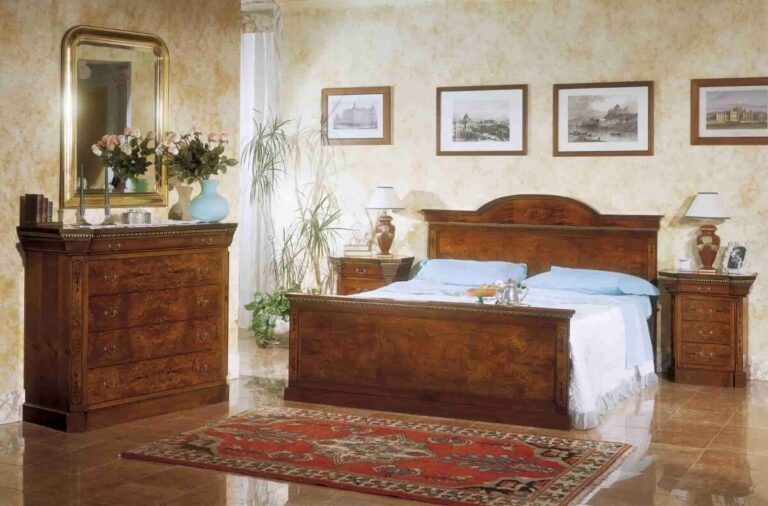 Accessories to make your bedroom elegant
Obviously, furniture is the most important thing to furnish a stylish bedroom but it is not enough. There is also need to use the accessories, decorations and complements in a smart way.
Here are some tips.
Lighting is very important to create the atmosphere and give the feeling of a chic and sophisticated environment. The choice of the chandelier, which must be rich and precious, but also of the bedside lamps, is therefore essential. In addition, a good idea is to adopt solutions that allow you to adjust the lighting and have a warm light.
A large mirror, to be placed above the chest of drawers or on a wall where you want to draw attention, is essential in the bedroom. Choose it extra large, with a baroque frame, perhaps gilded, or essential: it depends on the style you have chosen for the bedroom.
Textiles must be cared for in every detail in an elegant bedroom. Obviously they must be coordinated with each other: the style and colors should be in harmony and the fine fabrics to create a chic environment. A soft blanket on the bed, pillows of different shapes and sizes, decorated curtains are some ideas that will make the difference and make the room more cozy and refined.
These are just a few tips to make your bedroom elegant and sophisticated. If you would like to receive personalized advice and guidance from our interior designers, contact us!
Contact us here!