Modern beds have great charm and can become the real centrepiece of your room.
How to choose the one that best suits your needs? What are the latest trends? And what are the colours? In this article we have collected a selection of the best modern beds from which you can be inspired.
The characteristics of modern beds
As all contemporary furniture, modern beds are also characterized by some common features.
They are usually furniture with clean and clear lines, essential and minimalist, without frills but at the same time precious and characterized by accurate details. The shapes are mostly square and symmetrical, sometimes with some rounded details to give softness.
Some models are characterized by a particular and original design, which makes them eye-catching but never excessive. In general, we can say that all modern beds are furniture of great class and elegance, sophisticated and chic.
As for materials, modern beds often have a wooden frame and details in fabric, leather or metal. The colours of modern beds are neutral and delicate, usually light to give brightness and breadth to the room. Having neutral colours ensures the freedom to play with details of other shades: one of the latest trends sees the combination of a beige, taupe or sand base with golden details, precious and particular.
Selection of the best modern beds
And now that we have discovered the general characteristics of modern beds, let's find out what are the trendiest models of the moment.
Brando bed and its important headboard
The Brando bed is a perfect example of a modern bed for a precious and contemporary room. Its key feature is definitely the important headboard characterized by a combination of materials and colours that stands out immediately: a wooden frame encloses a high headboard in light beige colour.
Those who love details will be conquered by the gold feet which give stability to the structure of the bed and make it a massive and decisive model.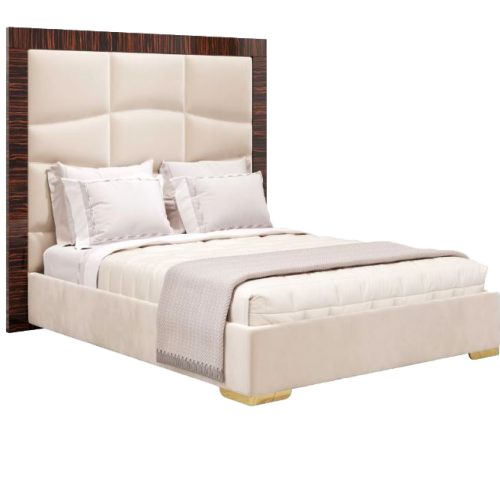 Rays Bed, a timeless style
If you are looking for a bed with a romantic and timeless soul, modern but with some vintage nuances, the Rays model is definitely for you. It is a bed with a large, quilted headboard in two colours, which recalls the nineteenth-century decor and gives a geometric touch to the space. The fact that the headboard is slightly curved almost seems to embrace those who settle on the bed in an embrace.
It is a bed that transmits lightness, despite its flashy design, thanks to the raised, slender feet.
Clizia bed, the centrepiece of the room
Clizia bed is really a model that knows how to get attention: thanks to its wide and long headboard, which extends on the whole wall, it is perfect to furnish a modern bedroom in an original way. The headboard is like an extension of the bed itself and acts as a background to the bedside tables which will be perfectly integrated in the room. The colours are neutral and delicate, with a golden touch that conveys luxury and sophistication.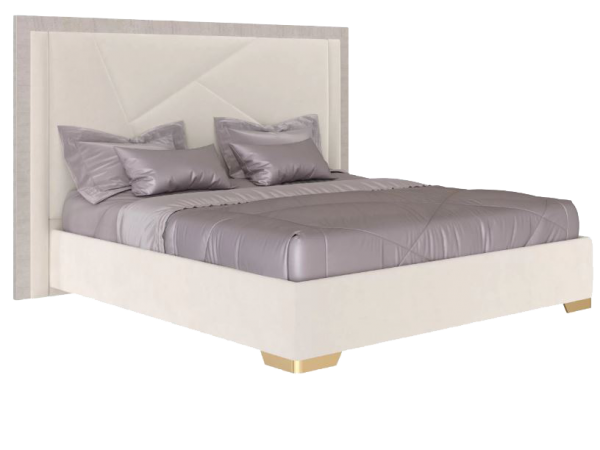 Conclusion
These were just a few of the trendiest modern bed designs at the moment. If you want to know our complete collection to find more inspirations, contact us: we are at your disposal to give you advice and answer your doubts.